Native theme is a tool created for fast and convenient WordPress site building. Our customers mean a lot to our team and we're constantly working on improving both: the product we've created and the service we provide.
Since now, we offer FREE installation of the theme, plugins included to the theme pack and any of the demo layouts available within Native theme.
Our support replies to every request we get within 1 business day from Monday to Friday, GMT +1. Please be sure that we'll get back to you with help as soon as possible!
To get free installation, please follow the steps described below:
Please, navigate to the Free Installation page.
Submit a ticket with all the information needed.

Enter an email and password which will be your login and password for the support forum access. You do NOT need to wait for any confirmation emails. Simply, use the email and password you've entered when submitting a ticket.
Please, specify your name, purchase code (required) to verify you as an official buyer of the theme.
It is important to select the demo you'd like to install on your site from the drop-down list. So the support team will be able to install the requested content for you faster without the need for additional questions. The names of the demos are equal to the names of the demos on our main demo page.
Please, enter the link to your site with WP and FTP access details. (FTP is required to install the theme on servers with low configurations. If you do not have these access details, please contact your hosting provider and ask him to provide you with the details.)
Please, use the 'Message' field to specify additional information for our team.
If you need PSD files, simply select 'Yes' in 'Get PSD Files' section.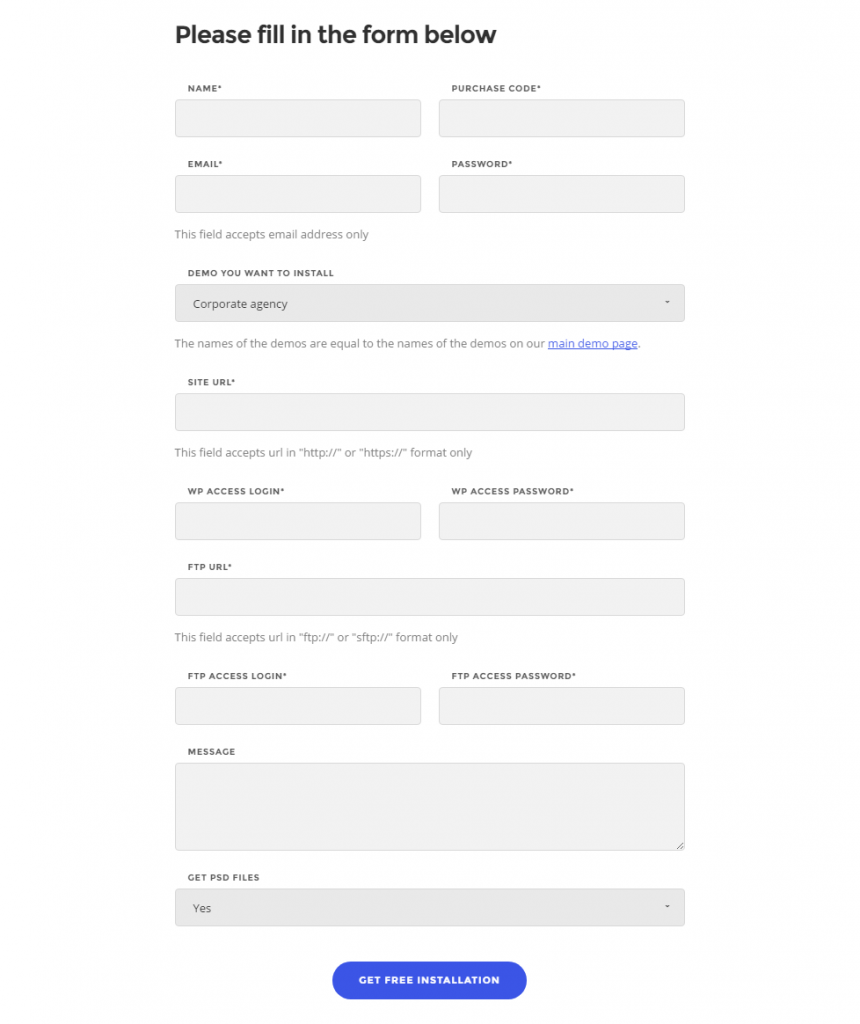 The Free Installation Service provides you with the advantage of saving time and money, allowing you to focus on your site creation.
Installation Service does include:
Theme installation
Installation of the plugins included with the theme pack
Installation of any demo layout on your site. You may select one from this link: http://nativewptheme.net/
Free PSD files
Availability of the author to answer questions
Answering technical questions about item features
Assistance with reported bugs and issues
Help with bundled 3rd party plugins
Thank you for choosing our theme!
Regards, DFD Support Team